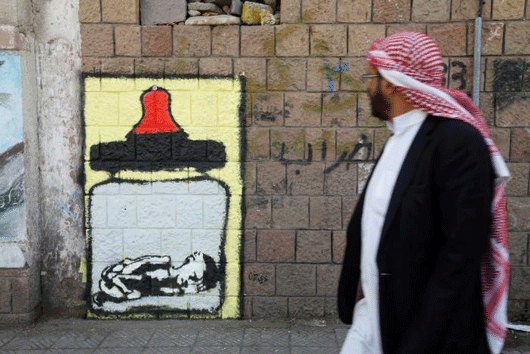 Yemeni Graffiti Artists Hope Images Will Highlight War Horrors
Local Editor
Yemeni street artists are daubing the capital's walls with haunting images of war and starving children in an effort to highlight the impact the conflict is having on the country's population.
The graffiti, including a malnourished child locked in a blood-red coffin, is turning heads in a country where more than two thirds of the population are in need of some form of humanitarian aid, according to the United Nations.
"We came up with this campaign because of the internal and external wars in Yemen, the economic crisis, all of these factors led to famine and poverty in Yemen," said participating artist, Thou Yazan Al Alawi.
Saudi Arabia began its deadly campaign against Yemen in late March 2015. The strikes were meant to undermine the Houthi Ansarullah movement and restore power to fugitive former president Abd Rabbu Mansour Hadi.
About 10,000 people have been killed and over 16,000 injured since Riyadh launched the airstrikes. The healthcare and education systems have also crumbled in the 19-month war.
Source: News Agencies, Edited by Website Team