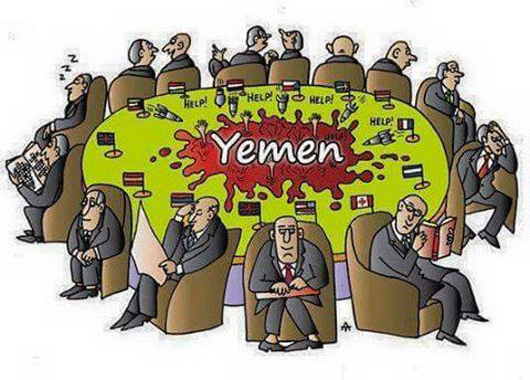 Blame the Virtual Silence of Intl. Community
Local Editor
Saudi Arabia, backed by the United States, the United Kingdom, and a coalition of Arab nations, has been bombing Yemen since late March in an attempt to restore power to fugitive former president Abd Rabbuh Mansour Hadi, a staunch Saudi ally.
The Saudi-led coalition has repeatedly targeted schools, hospitals, and religious buildings. Civilian infrastructure, water supplies, and power stations, have been destroyed. Civilian hospitals-overloaded with patients injured by airstrikes yet painfully under-supplied because of coalition blockades-are nearing collapse.
With the silence of the international community, the Saudi-led military campaign has so far killed more than 7,500 people and wounded over14,000 others.
By its silence and support for Coalition bombing in Yemen, the international community completes the erasure of legal reference in war.