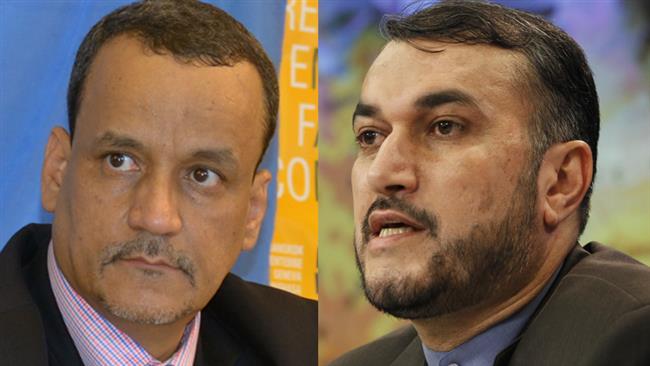 Abdollahian to United Nations' Envoy: UN Must Act to Stop Saudi Killing in Yemen
Local Editor
Iran's Deputy Foreign Minister Hossein Amir-Abdollahian called on the United Nations [UN] to take effective measures to put an end to Saudi Arabia's airstrikes against Yemen and its killing of people in the impoverished country.
In a telephone conversation with the UN secretary general's new envoy to Yemen, Ismail Ould Cheikh Ahmed on Monday, Abdollahian said that, "The United Nations is expected to take effective, clear and deterrent action regarding Saudi Arabia's aggression and the blatant killing of the defenseless Yemeni people, which are in violation of international regulations." 
Abdollahian urged the UN and international aid organizations to launch their campaign as soon as possible in a bid to end the ongoing crisis in Yemen.
"The Islamic Republic of Iran is ready to carry out any necessary measures in order to send humanitarian aid to the oppressed and defenseless Yemeni people," Abdollahian said.
For his part, Cheikh Ahmed, said that Iran plays an important role in regional developments and added that the UN is trying to hold consultations with Iran to find solutions to regional woes.
Saudi Arabia began its US-led military aggression against Yemen on March 26 -- without a UN mandate -- in a bid to undermine the Houthi Ansarullah movement and to restore power to the fugitive former president, Abd Rabbuh Mansour Hadi, who is a close ally of Saudi Arabia.
According to the latest UN figures, the Saudi military campaign has so far claimed the lives of over 1,400 people and injured close to 6,000 others.