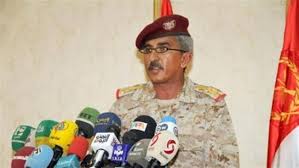 Yemen's Army, Ansarullah Movement Accept Truce, Warn against Violating It
Local Editor
Yemen's Army and Ansarullah revolutionaries accepted the truce of a five-day humanitarian ceasefire proposed by Saudi Arabia following the Saudi regime's aggression on Yemen, but vowed to respond to any violations.
Spokesman for the Yemeni Armed Forces, Colonel Sharaf Luqman, said in a statement that, "Following mediation from friendly countries to establish a humanitarian truce... we announce our agreement".
"Any military violation of the ceasefire from al Qaeda and those who stand with it and support it and fund it will be responded to by the army and security and the popular committees," he added in the statement.
Luqman, meanwhile, lashed out at the Saudi blockade on Yemen, which is preventing humanitarian goods to enter into the impoverished country.
Additionally, Ansarullah revolutionaries said that they would deal "positively" with any efforts to lift the suffering of the Yemeni people.
In a statement released by the movement's politburo late on Saturday, the Ansarullah movement stressed the importance of lifting the blockade on Yemen in order to let the aids enter the country which is suffering from a dire humanitarian crisis.
The ceasefire, which is set to allow time for donors to coordinate aid supplies, is due to come into force at 11 p.m. on Tuesday, according to the Reuters news agency.
Saudi Arabia began its US-led military aggression against Yemen on March 26 -- without a UN mandate -- in a bid to undermine the Houthi Ansarullah movement and to restore power to the fugitive former president, Abd Rabbuh Mansour Hadi, who is a close ally of Saudi Arabia.
Thousands have been martyred and injured in the aggression, with the vast majority of them being civilians.