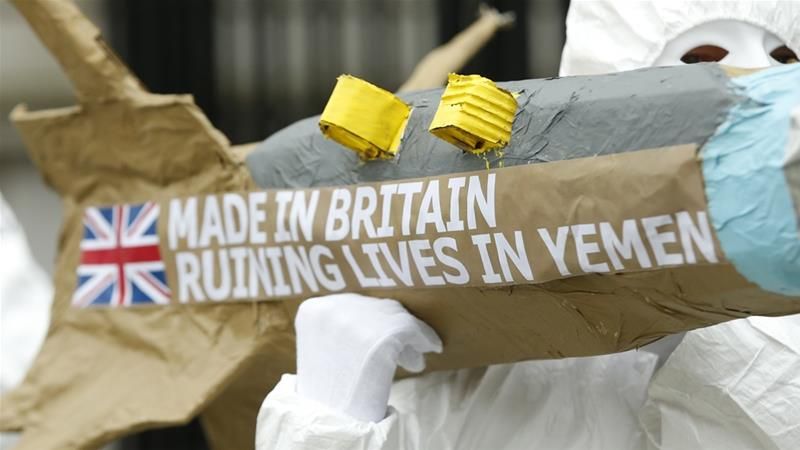 UK could be 'aiding and assisting' Saudi Arabia war crimes by selling arms, UN report warns
By Jon Stone
UK could be 'aiding and assisting' Saudi Arabia war crimes by selling arms, UN report warns.
Britain and other countries providing arms to Saudi Arabia are potentially "aiding and assisting" war crimes by the country's forces in Yemen, a UN report has warned.
It comes months after the UK government lifted a court-ordered ban on arms exports to the country, claiming that while it was "possible" that war crimes were taking places, they appeared to be "isolated incidents".
But UN Human Rights Council this week said countries fuelling the conflict with arms were showing a "blatant disregard" for "documented patters of serious violence".
Campaigners said the UN investigation clearly contradicted Trade Secretary Liz Truss's claim from early July that the breaches of international law did not constitute a pattern because they had happened in different times and in different ways.
The report warns of "concern about third states transferring arms to parties to the conflict in Yemen in blatant disregard of the documented patterns of serious violations of international humanitarian law and human rights law in the conflict to date".
It adds: "The Group believes that they are failing in their responsibilities to ensure respect for IHL, and that some States may be violating their obligations under the Arms Trade Treaty.
"Furthermore, such support may amount to 'aiding and assisting' internationally wrongful acts in contravention of international law."
Responding to the report, government said it "takes its export responsibilities seriously", though it continues to sell arms.
Ministers have licensed at least £5.3 billion worth of arms to Saudi Arabia since the conflict began in 2015, including licences covering weapons like bombs and missiles.
Andrew Smith of Campaign Against Arms Trade said: "This is an extremely damning report and underlines the complicity of arms-dealing governments such as the UK.
"The government has dismissed the long list of possible war crimes as merely 'isolated incidents', but this report makes clear that they are part of a deadly pattern.
"Saudi forces have shown a total contempt for international law and the rights and lives of people in Yemen. After five terrible years, this war has killed tens of thousands of people and destroyed vital infrastructure across Yemen. It is a man-made crisis that has been fuelled, enabled and exacerbated by Downing Street."
Asked about the latest report, a Department for International Trade spokesperson said: "The UK is deeply concerned by the ongoing conflict and humanitarian crisis in Yemen.
"We fully support the peace process led by the UN Special Envoy, Martin Griffiths, and urge the parties to engage constructively with this process.
"The Government takes its export responsibilities seriously and assesses all export licences in accordance with strict licensing criteria.
"We will not issue any export licences where to do so would be inconsistent with these criteria."
Source: The Independent