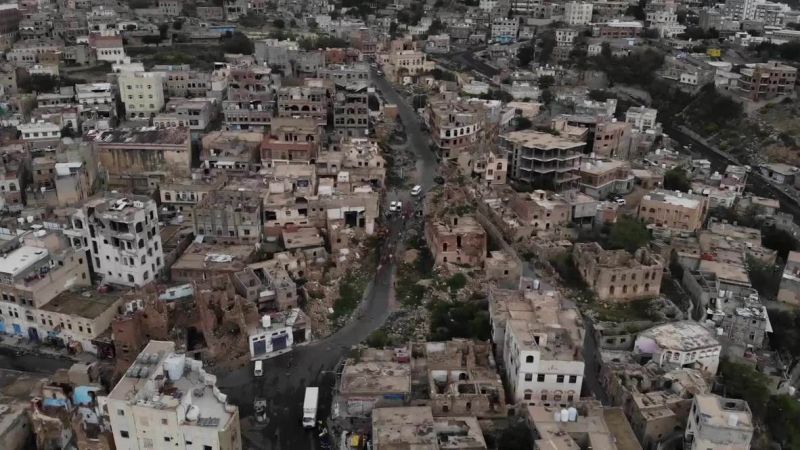 Third-largest Yemeni city defaced after five years of war
Local Editor
The city of Taiz, the third-largest in Yemen, was seen defaced after enduring more than five years of war, as seen on Monday.
Drone footage captured buildings and houses destroyed by the strikes while ground footage unveils the condition local residents are living in. A man could be seen taking care of kids on the last floor of a shattered building, as people were walking among debris and getting potable water from a public water tank.
"Due to the war, I left the house, I was afraid for my children. I had to leave the house, a shell fell onto my house and destroyed it all, now we don't have anything. Then, I fled to al-Hoban, I lived in a house, but I cannot pay the rent so I had to go back to al-Jahmaliya to my destroyed house to live there. I use some wood and plastic to cover the broken windows and doors," Shihab Abdullah, a local resident, said.
Human rights activist Awad Almariry mentioned that on the eastern side of Taiz the destruction "makes you think it was a hurricane, not war."
The activist added that the damage "spreads to public institutions such as hospitals and service institutions in general."
Once known as the "cultural capital of Yemen," now Taiz is reportedly the longest-running battleground in the Yemeni war since March 22, 2015.
According to reports, Taiz became the most heavily bombed city by the Saudi-led coalition airstrikes.
So far, the war has killed over 100,000 people, triggering the worst humanitarian crisis in the world, according to the UN.
Source: Ruptly, Edited by Website Team