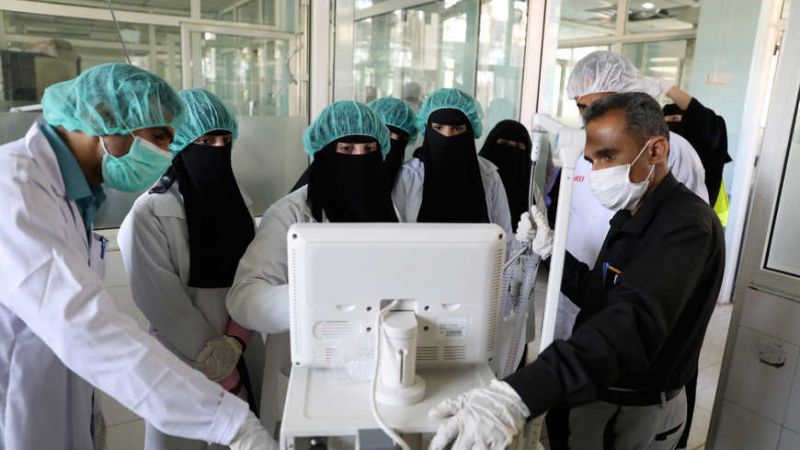 Intel: After US funding cuts, WHO likely to end most Yemen health services
By Bryant Harris
As Yemen stares down the prospect of a devastating COVID-19 crisis, the World Health Organization is likely going to suspend about 80% of the health care services in the war-torn country by the end of the week, UN humanitarian coordinator for Yemen Lise Grande said Monday.
The massive drawdown comes after the United States slashed the lion's share of its humanitarian assistance to Yemen last month. Shortly thereafter, President Donald Trump suspended American funding for the WHO.
"We are facing a funding crisis of gargantuan proportions," Grande said at a virtual panel hosted by the Center for Strategic and International Studies.
"Authorities, particularly in northern Yemen, have recognized there's a problem," she said. "They recognize it and have started to take steps to change it," while stressing that more still has to be done to ensure that aid workers can do their jobs unhindered.
Grande noted that the WHO is going to have to "reduce" or "more likely" shutter operations in 189 Yemeni hospitals and 200 primary health centers. Additionally, the United Nations Children's Fund will have to scale back or stop services in 18 major hospitals and 2,500 primary health centers, affecting some 250,000 malnourished children. The UN funding cuts will also force service reductions and eliminations at 142 camps for displaced Yemenis, mine removal operations, protection programs, reproductive health initiatives and the emergency distribution of hygiene products to help suppress the COVID-19 pandemic.
Despite the drastic funding cuts, Grande noted that the WHO is "training and funding" 33 rapid response teams to test Yemenis with coronavirus symptoms in the hopes of tripling that number "within just the next few weeks." The WHO has also converted 32 hospitals throughout the country to fight COVID-19 and facilitated the importation of masks, other protective gear, ventilators and ICU beds amid stiff global competition.
"Let's be frank, no one else could do that," said Grande.
On Friday, the Saudi-led coalition announced it was extending a cease-fire for another month to allow for UN-brokered negotiations and to help in the fight against the outbreak.
UN efforts to establish a coronavirus cease-fire in the war-torn country were complicated on Sunday when Yemen's southern separatists declared self-rule in Aden and other provinces. Grande noted that the United Nations is in talks with the Southern Transitional Council over aid implementation.
"The more proliferation of administrative authority, the more complicated governance becomes," she said. "The harder it is to respond to COVID at the scale and with the intensity that's required."
Source: Al-Monitor, Edited by Website Team