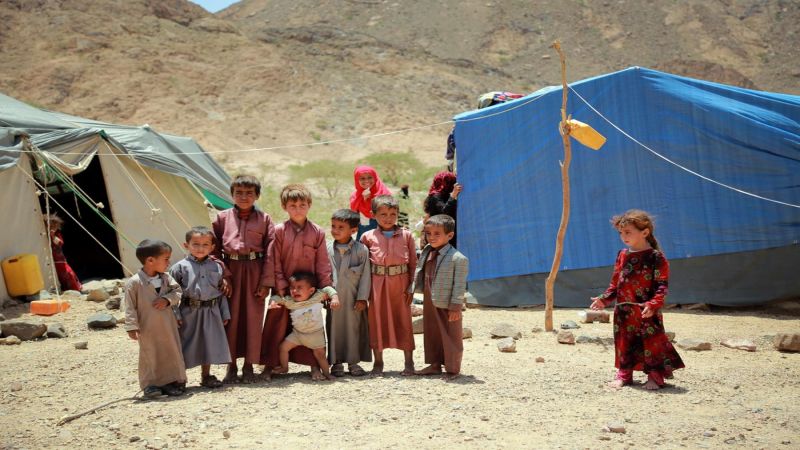 Yemen, five years on: Battles bring back scenes of early days of war
Local Editor
Recent advances by Houthi revolutionaries and an increase in fighting in Yemen's north have led to mass displacements reminiscent of the exodus that took place in the same area in the early days of the war, now in its fifth year.
In 2015, battles broke out in several provinces and the Houthis advanced dramatically before a Saudi-led coalition intervened in support of regime forces to recapture some areas.
During the initial battles, civilians lost their jobs, homes, and relatives and they were forced to flee towards safer places. But the fighting followed many of them, forcing displacement for a second or third time.
No massive exodus took place during 2019, as there were no fierce battles followed by major advances by either side of the warring parties. But the front lines have been moving since late January, and fighting in northern Yemen is forcing thousands to flee.
Last week, the Houthis seized control of the strategic al-Hazm city, capital of the northern province of al-Jawf, putting the rich Marib province in their sights.
As of 2 March, the number of civilian casualties and internally displaced persons (IDPs) is unclear due to continued fighting in the affected areas.
However, an estimated 1,800 families reportedly fled the heavily populated districts of al-Ghayl and al-Hazm in al-Jawf province, since fighting escalated in those areas on 1 March, according to the United Nations Office for the Coordination of Humanitarian Affairs (OCHA).
The Executive Unit for Internal Displaced Persons (ExU) in Marib reported that 2,100 displaced families reached Marib on 1 March and are being hosted by local communities in Marib city and al-Wadi district.
ExU is an aid body in areas under the control forces loyal to Hadi that cooperates with international NGOs to help IDPs and people in need.
The organisation reported that the recent escalation in al-Jawf has forced an estimated 25,000 people to be displaced to the neighbouring Marib province to the south.
Local civil society leaders informed OCHA of several IDP families stranded in al-Rwaik desert on their way to Marib.
In the al-Khalq district of al-Jawf, 650 families have reportedly been displaced, and assistance is ongoing despite extreme difficulties due to the increasingly unstable security situation, according to OCHA.
Prior to the start of the war, Nael Hassan, in his 40s, was a chef at a restaurant in Sanaa.
When the Saudi-led coalition air strikes started attacking the capital in March 2015, the restaurant was closed and he was forced to return to the city of Taiz, his hometown.
Two months later, the battles arrived in Hassan's area of Taiz, and together with his family of five, he fled and settled in a rural area south of the city.
"The battles followed me and after one year of living in displacement in Taiz, I decided to travel to Marib where there are work opportunities," Hassan told Middle East Eye.
Hassan travelled to the central province and currently works at a restaurant Marib city.
He said thousands of families arrived in the city from al-Jawf in the past week.
"Some of those IDPs are originally from Sanaa and they fled the fighting for the second time. It is similar to what happened to me in 2015."
Hassan said that most of the displaced families are needy and don't have money to cover everyday necessities, but some generous people in Marib have been helping them.
"The displaced families are in dire need of all services but shelter is a priority for them," he said.
"IDPs told us that there are also displaced families in the desert and they are arriving soon to the city."
The recent displacements from al-Jawf to Marib brought memories back to Hassan of when the war forced him to flee, not once but twice. Today he feels the IDPs pain.
Hassan described himself as a displacement expert and said he believes Marib is not the safest place for people escaping the recent bout of fighting.
"Marib was safe during the last year as there were no fierce clashes, but now the battles are moving very quickly and we may have to flee from Marib city. It is not safe for IDPs to stay here," he added.
"I can see the scenario of 2015 being repeated, so it is expected that the fighting will reach the city."
Hassan hopes that organisations can intervene and set up a camp for the displaced in a safe area far from Marib city.
He said his wife and children will go to Taiz in the coming days, but he has decided to stay alone because he can't afford to quit his job.
"If the battles arrive, it will be difficult to flee," Hassan added.
The Executive Unit said that the recent displacement is larger than the capabilities of the ExU, local authorities, and even what the aid organisations operating in Marib can offer.
The International Committee for the Red Cross (ICRC) said on Monday that thousands of civilians have fled ongoing clashes to Marib in extremely tough conditions.
"To alleviate their suffering, ICRC and Yemen Red Crescent distributed food and shelter aid for 70'000 displaced people," ICRC tweeted.
Ahmed Shamsan, an ExU aid worker, confirmed that the INGOs in Marib are not able to provide all displaced families with basic services in the current situation.
"Thousands of IDPs have arrived in Marib city in the last few days and hundreds are still in the desert of al-Jawf and around Marib city and organisations can't reach them," he told MEE.
Shamsan said that families have left everything behind. Some NGOs have provided families with food and kits, but their situation is still grave.
"Additionally, the displaced families in the desert have not received any aid and they are arriving to Marib shortly, so the need will be larger in the coming days."
OCHA said on Tuesday that humanitarian partners are stepping up response in areas where IDPs are accessible, with different agencies providing ready-to-eat food supplies, hygiene kits, and women transit kits.
"Additional quantities are being transported with support from OCHA. Some 1,500 Rapid Response Mechanism kits are expected to arrive in Marib shortly, while some 5,000 kits will be dispatched from Aden," OCHA said.
This is not the first time that such mass displacement to Marib has taken place. Similar scenes were seen in 2015 when the Houthis took over al-Jawf province, pushing people to flee south to Marib.
Shamsan said that some people who fled in 2015 have returned to their homes after pro-Hadi forces recaptured al-Hazm and al-Ghayl in December 2015 and October 2016 respectively.
"Today, they are displaced once again. We hope it will not be for long, like last time."
An aid worker with the Yemen Red Crescent in Marib told MEE on condition of anonymity because he is not authorised to speak to the press, that the need in Marib is increasing and organisations are doing their best.
"The organisations were hardly helping the people in Marib displaced by earlier battles, and suddenly the battles broke out and we received thousands of new families."
The aid worker said it was difficult to provide basic services and spoke of similar scenarios that happened in 2015.
"It is very difficult to help them all with full basic services, but we called on INGOs and they are sending more aid to Marib
"In 2015, it took months to could help displaced people as INGOs were busy helping IDPs in several provinces, but today they are focusing on Marib."
Even amid the ongoing battles and an increase in casualties, Yemenis still hope for peace.
"We have been hoping that the war would end, and that we resume our regular lives. But after five years, I can see that battles are still ongoing in the same fierceness of 2015.
"The suffering of displaced people should be enough to encourage warring sides to stop the war. I hope this suffering touches their hearts."
Source: MEE, Edited by Website Team