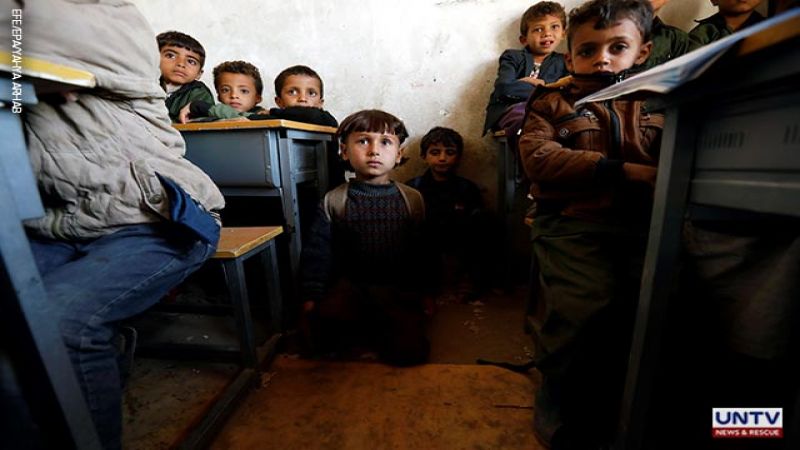 In War-ravaged Yemen, Students Are Dropping Out of School
Local Editor
Saad al-Zaidi, a 12-year-old student from Yemen, left school last year to seek a job on a farm on the outskirts of the capital Sanaa to help his father make a living for a family of nine.
This was not an easy decision for Saad or his father, a Sunni mosque preacher who lost his job in late 2014.
Saad gains 1,500 riyals (roughly 2.5 dollars) per day and buys food for the family.
He is one of over two million children who are out of schools amid the continuing war in Yemen.
"I have to help my father," Saad told EFE as he stood on a street leading to the school he used to attend in the Jader outskirts north of Sanaa.
"I like to study, but I cannot attend a class while my family needs food," he explained, while his father nodded in agreement.
"The tragedy we are experiencing has plagued all people, not just me," Saad's father Ibrahim said.
"Because of our conditions, the father may have to take his children out of school to help with the living," he added.
"I cannot feed seven children, let alone educating them," he continued.
Hisham Oqbah, 14, is another student at the same school. He dropped out two years ago along with an older brother aged 15, for the same reason; to make a living for a family of eight.
Their father was a soldier and lost his job. He could not pay 10,000 riyals (around $17) of monthly house rent for two years.
"We sometimes find a job with a construction contractor, and sometimes we do not find any job and stay at home," said Hisham.
They receive 2,000 riyals per day each.
Hisham dropped out of school after he finished the sixth grade of their primary school.
His lucky peers are still attending classes in the rundown one-story building that was an abandoned house turned to a school in Jader.
Around 500 students are enrolled and take turns attending the classes in the morning and afternoon in the only five classrooms.
The school looks like it is falling apart from the inside out. Missing or broken windows make tables, floor and even books dusty. Cracked walls are streaked with grime.
Some of the students sit on the floor due to the lack of chairs.
Students and teachers alike have neither toilets nor a cafeteria.
Although their school conditions are less-than-acceptable, they look lucky. They are learning, while Saad, Hisham and many other peers had to leave school to work and bring bread to their families.
Children in Yemen are not only deprived of education as the war goes on. They become a casualty of that war.
Khaled Shamsan, the school's headmaster, said some of the students who drop out of school become combatants.
"Some of my students have chosen to go with the Ansarullah (Houthis)," Shamsan told EFE.
"Some of them have been injured and some are still at the frontlines," he said.
UNICEF's representative to Yemen Sara Beysolow Nyanti said such conditions are partly why Yemen is "the worst place for a child to be born."
"A child born in a situation of bombardment, in a situation of war, in a situation of not knowing what tomorrow would bring, in a situation where they do not know whether or not their dreams can be realized, it is the worst place for a child to be born today," Nyanti told EFE.
"The education system is dilapidated.
"Education is the least funded area in the entire humanitarian response in Yemen."
UNICEF and partners have verified that around 3,000 children have been killed and 5,000 others injured since the war began in 2015.
"We expect the figures are far higher than that. Because of war, we are not able to verify all of the cases across the country," she said.
"But that is too many children. Already one child killed is too many children. One child injured is too many children," she added.
Despite those figures of fatalities and injuries among Yemeni children, says Nyanti, still the biggest risk they face is education.
"The greatest risk of the children right now besides their right to live and develop, we have to make sure that they are educated," she said.
"If a child does not have education, the child would never fulfill his or her development potential … Even if the child lives and never get educated, what would be the quality of life for that child?" she asked.
Source: News Agencies, Edited by Website Team