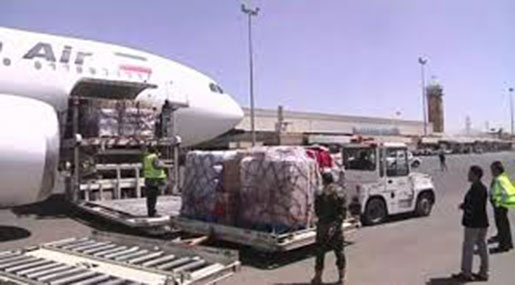 Iran to Send Relief Aid to Yemen via Sea
Local Editor

The Iranian Red Crescent Society [IRCS] is set to dispatch a cargo ship of relief aid to the crisis-hit people in Yemen.

Nejat cargo ship carrying Iran's medical aid for Yemeni people is currently being loaded in the southern Iranian port city of Bandar Abbas and will head to one of Yemen's ports this weekend, IRCS Secretary General Ali Asghar Ahmadi said on Thursday.

Ahmadi said that during the past weeks the IRCS has been unable to airlift humanitarian aid to Yemen due to Saudi Arabia's blockade of the war-wracked country; therefore, coordination was made with certain Persian Gulf littoral states to dispatch the aid through sea.

He said that Iran has made the necessary coordination with the Yemeni Red Crescent Society as well as the International Committee of the Red Cross [ICRC] and held consultations with Saudi Arabia's Red Crescent Society to dispatch the cargo ship.

The ship contains 2,500 tons of medical supplies, foodstuff and tents, he added.

Earlier on Sunday, Ahmadi said that IRCS had dispatched relief aid to people in Yemen through Oman as Riyadh had blocked Iran's humanitarian aid delivery to the war-wracked country.
On April 28, Saudi Arabia forced an Iranian cargo plane carrying medical aid and foodstuff for crisis-hit people in Yemen to return.

The Iranian aircraft, which had earlier received permits from Omani and Yemeni aviation officials to cross into Yemen's airspace, could not land at the international airport in the Yemeni capital, Sana'a, as Saudi warplanes were violently striking the runway of the civil airport.
The development came less than a week after Saudi fighter jets intercepted another Iranian airplane, carrying humanitarian aid to Yemen, and prevented it from entering the Yemeni airspace on April 22.

An Iranian Foreign Ministry official said the IRCS had obtained the necessary permission to fly in the Oman-Yemen route and sent a plane in coordination with the ICRC in order to fly Yemeni patients back to Iran and distribute medical aid to the injured in the war-wracked country.
Iran's Deputy Foreign Minister for Arab and African Affairs Hossein Amir-Abdollahian on April 26 said the Islamic Republic considers all options for helping the Yemeni people and immediate dispatch of humanitarian aid and transfer of the injured.
In a recent report, Human Rights Watch said evidence shows Saudi Arabia has used cluster munitions in the northern province of Sa'ada in recent weeks.

The Saudi military campaign against Yemen has so far claimed the lives of over 1,000 people and injured several thousand more. Hundreds of women and children are among the victims.