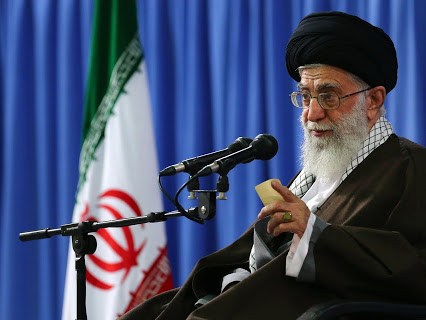 Sayyed Khamenei: US Supporting Saudi Aggression
Local Editor
The Leader of the Islamic Revolution, Sayyed Ali Khamenei, denounced on Wednesday America's support for the major crimes being committed by Saudi Arabia in Yemen, saying that the US provided the Saudi regime with military and intelligence backup in its recent military aggression.
Addressing Iranian teachers in Iran's capital of Tehran on Wednesday, Sayyed Khamenei commented on the Saudi-led aggression on Yemen, reiterating his condemnation of the Saudi military aggression against Yemen as unjustifiable.
In parallel, he denounced as disgraceful the US support for major crimes that Saudi Arabia is committing in Yemen, saying that Washington provided Riyadh with military and intelligence backup in its military aggression against the impoverished country.
He also slammed Saudi Arabia's blockade of Iran's aid shipment to Yemen, saying that the Islamic Republic only wanted to send medical supplies to Yemen, adding that the Yemenis do not need Iran's arms.
Saudi Arabia launched its military aggression against Yemen March 26 - without a United Nations mandate - in a bid to undermine Yemen's Houthi Ansarullah movement and to restore power to the country's fugitive former president, Abd Rabbuh Mansur Hadi, who is a staunch ally of Saudis.