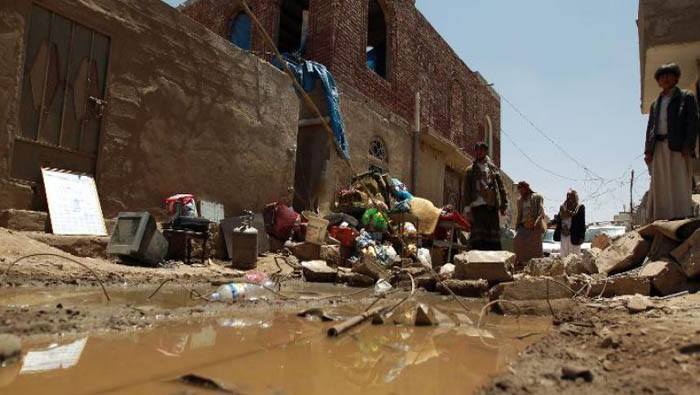 Saudi Blockade Threatens 'Humanitarian Catastrophe' in Yemen
Yemen's violent conflict has intensified in the run up to a five-day ceasefire scheduled to start on Tuesday as aid experts warn that the war-ravaged country is close to a "humanitarian catastrophe". 
The Saudi-led coalition, which launched an aerial bombing campaign in March to dislodge Houthi who had seized control of the capital, struck the northern city of Saada at the weekend after proposing the ceasefire. Reports also emerged that Saudi warplanes had bombed the Sana'a home of the Houthis' ally, former president Ali Abdullah Saleh, who later spoke to news channels outside the damaged building. 
In spite of the renewed strikes on the Houthis' heartland, the group said it would accept "any truce that will service the nation's welfare".
But the UN's humanitarian coordinator for Yemen said on Saturday that the "indiscriminate bombing", which came after a four-hour warning, contravened international humanitarian law. 
"Many civilians are effectively trapped in Saada, as they are unable to access transport because of fuel shortages," Johannes van der Klaauw said in a statement.
A Saudi-led blockade of the country has been in place since late March and has nearly exhausted Yemen's dwindling supplies of fuel and food.
Petrol stations have already run dry in the capital, Sana'a, residents say, while supplies are so scarce in north Yemen that prices have risen as much as tenfold, according to charity Oxfam.
Supplies of staples such as rice as well as medicines and other basic goods are also running out and cannot be transported because of fuel shortages, aid officials say, with one government economist estimating that northwest Yemen could run out of basic goods within two weeks.
Aid workers and government officials also warn that fuel shortages pose a grave threat to Yemen's water and electricity supplies, as well as to its transport network, amid predictions that the country of 24m people will grind to a halt.
"The idea that the country will come to a complete standstill is very real," Mr van der Klaauw told the FT last week.
"It's very, very alarming - we need to address the humanitarian crisis before it is too late."
The Saudi-led coalition has stopped all fuel from entering Yemen since it launched its bombing campaign. Riyadh said the move was necessary to prevent Iran from shipping arms to the Houthis, adding that if fuel or goods were unloaded they would probably end up in rebel hands.
About 60 per cent of Yemen's fuel needs - together with 90 per cent of wheat and 100 per cent of rice - are imported. On average each month, Yemen imports 350,000 tons of food and up to 1m barrels of fuel products.
The fuel shortages are preventing the distribution of food, and medicines cannot be stored in hospitals because of power shortages, Mr van der Klaauw has warned. 
The UN World Food Programme says it has enough food in Yemen to supply 1.4m people for a month, but Mr van der Klaauw points out that in Sana'a and the city of Hodeida, "there are food stocks but no fuel - which means there can be no distribution".
Marie Elisabeth Ingres, head of mission for Médecins Sans Frontières, said fuel shortages were preventing its staff from doing vital work, putting lives at risk. A child in north Yemen died unnecessarily last week from complications caused by tonsillitis due to a lack of transport.
Lack of fuel had forced many Yemenis to turn to unclean water supplies, threatening an outbreak of disease, she said. Yemen's water is mainly piped from underground aquifers with diesel-powered pumps. "We request access for fuel. We are completely stuck at the moment," she added.
"Even before this vicious war started millions of Yemenis were going to sleep hungry every night," said Grace Ommer, Oxfam's country director for Yemen. "Now they risk death on two fronts - from bombs and the de facto blockade being imposed on a country that imports 90 per cent of its food. [This is] unfolding into a humanitarian catastrophe."
The humanitarian crisis has increased the pressure on Washington to push Riyadh towards a ceasefire, as US policy makers say they have been trying to do since the early days of the campaign.
Riyadh says the naval blockade was ordered by the legitimate Yemeni government of President Abd Rabbu Hadi - in exile in Riyadh - citing a UN Security Council resolution calling for an arms embargo against the Houthis.
The exiled government had issued a circular to port authorities ordering all inbound transport ships to co-ordinate with the coalition before crossing into Yemeni waters, a ports official said. Ships are told to dock at one of the southern port cities of Mukalla or Aden, as the other large port, Hodeidah, is under Houthi control.
But shipping companies have been wary of delivering to the two southern ports since the Saudi-led campaign began. In March Mukalla fell under the control of al-Qaeda in the Arabian Peninsula, while Aden has been the scene of intense fighting. Mr Hadi on Thursday called for UN intervention as violence worsened in Aden.
Although ships trying to bring supplies into Hodeidah have been prevented from entering the port, access for vessels carrying food has improved since the end of the first phase of the Saudi campaign in late April, port officials say.
While continuing air strikes..., the coalition insists it is seeking a political solution to the conflict and trying to ease humanitarian access. Riyadh said this week it was considering halting strikes "on specific areas . . . at specific times" to ease the flow of aid.
However, ships containing in excess of 250,000 tonnes of fuel have been arriving off Yemen's west coast since early April but have been denied entry, according to port officials.
Source: financialtimes