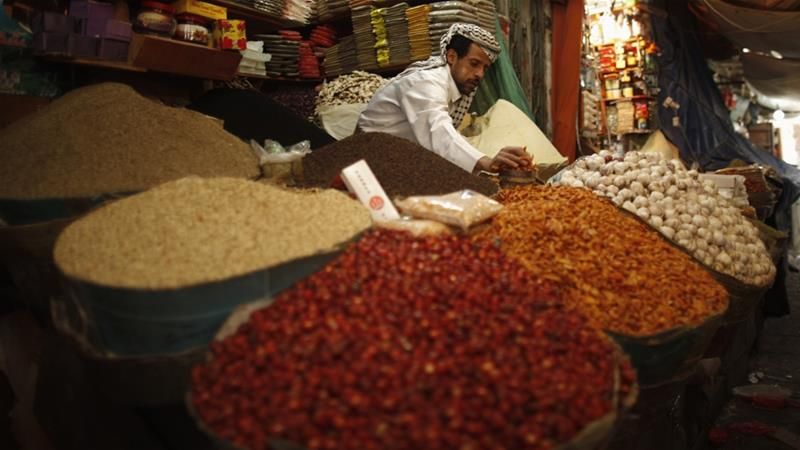 Yemenis turn to cheap herbal remedies due to war, blockade
Local Editor
With medicine prices soaring in Yemen due to war and blockade, many residents are resorting to cheap traditional herbal medicine as an option that could save their lives.
Ali al-Atab bought medicinal herbs from a shop selling various types of herbs and spices in Almilh market in the Old City of Sanaa.
"I came here to buy medicinal herbs for treating urinary tract and gallstones, which are cheap ... so if they could cure me, it's great, and if not, there would be no harm," al-Atab told Xinhua.
Another customer Abu Sakhr Qaid said that he found herbal medication beneficial to the health of his six-member family.
"Herbal medication helps strengthening immunity against these chronic and epidemic diseases ... a lot of medicinal herbs are sold in this market," he said.
The war and blockade have left many residents with no options, but to go to the popular markets in search of an alternative way to treat their diseases and save their lives.
The war broke out in late 2014, when the Iran-backed Houthi group seized much of the country's north and forced the Saudi-backed government of President Abd-Rabbu Mansour Hadi out of the capital Sanaa.
The five-year-long war has led to the collapse of more than half of the country's health system, and caused what the United Nations describes as the world's largest humanitarian crisis.
Millions of Yemenis have become vulnerable to deadly epidemics, which are rife across the country, including cholera, malaria, diphtheria and now the novel coronavirus.
Vendors in the market say people are flooding in, seeking medicinal herbs at affordable prices.
"Many people used to treat themselves with these natural herbs, and now many more people are resorting to these kinds of natural herbal remedies due to the high prices of medicines," said Abdulaziz Lutf, a vendor at the market.
Doctors blame the ongoing war and economic blockade for the rise in medicine prices.
"Yemen imports all medicines from abroad in hard currency. So the reason for the increasing prices of medicines is the deterioration of the local currency against the hard currency due to the war," said a doctor Anas Abdullah in Sanaa.
He warned that some concoctions of herbs could put a patient's life at risk.
"Today, some were no longer taking one or two herbs, but rather taking concoctions of a large range of herbs that could cause a dangerous herbal interaction and health risks," he noted.
Source: News Agencies