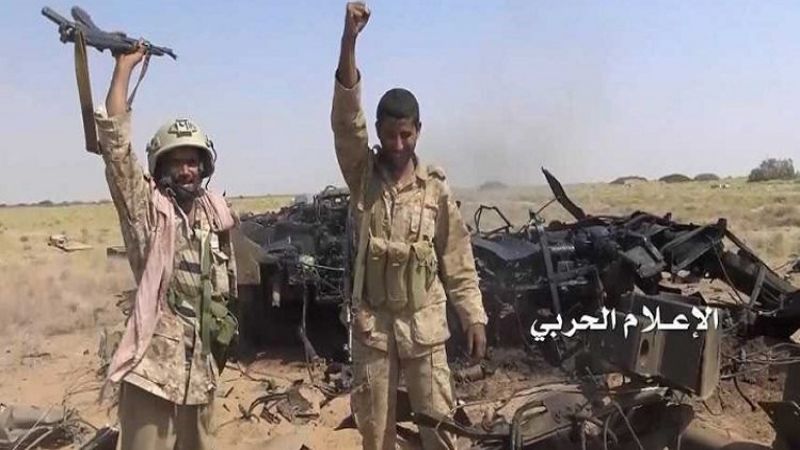 Yemeni Army Destroys Saudi Military Vehicle In Hajjah
Local Editor
The Yemeni army on Monday managed to destroy a Saudi military vehicle loaded with mercenaries hired by Saudi-led coalition in Hajjah province, northern Yemen.
The military vehicle was destroyed with an improvised explosive device (IED) planted by the army's engineering unit west of Hiran district, killing all its crew.
On Saturday Yemeni Air Force unit spokesman, Brigadier General Abdullah Al-Jefri underlined that the balance of war had changed in Yemen's favor thanks to the formidable array of missiles and drones possessed by the Yemeni army.
Brigadier General Al-Jefri reiterated that the Saudi-UAE coalition would be forced to stop the war soon.
The general added that after the recent attacks against Najran, Jizzan and Abha, Yemen Army and popular allied forces will launch offensives against the airbases, specially Khamis Mashit region in Asir which is considered as one of the most important Saudi military bases which hosts Israeli military experts too.
Yemeni forces have launched a fresh drone attack on an airport in Abha, the capital city of the province of Asir in southern Saudi Arabia, in retaliation for Riyadh's bombardment of the innocent people of Yemen during the past four years.
The Ansarullah movement and its allied forces targeted the Abha airport with a Qasef K2 drone on Sunday, the group's Al-Masirah TV said on Monday.
The attacks come as Saudi Arabia continues to target crowded civilian locations across Yemen, ignoring international criticisms of its brutal air campaign.
The Saudi-led war that started in 2015 has claimed over 15,000 lives, most of them Yemeni civilians.
Source: News Agencies, Edited by Website Team