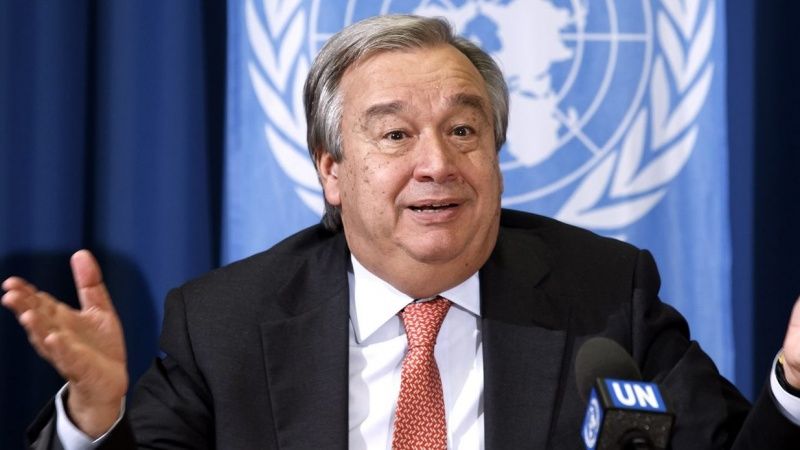 UNSG Expresses His Concerns On Long Lasting Yemen's War
Local Editor
UN Secretary-General (UNSG) has warned on consequences of long lasting Saudi-led war in Yemen in a letter to UN Security Council on Sunday.
In his letter to United Nation Security Council (UNSC), Antonio Guterres calls for full implementation of a ceasefire agreement in the vital Yemeni port of Hodeida.
It is worth noting that on 6 December 2018 delegations from both sides engaged in the Yemen conflict gathered in Stockholm, Sweden, under the auspices of the United Nations, for peace talks.
After several days of intensive negotiations, on Thursday 13 December 2018, both sides agreed to a ceasefire agreement in the port city of Hodeida and surrounding areas.
The United Nations special envoy for Yemeni affairs, Martin Griffiths, chaired the peace negotiations in Stockholm.
However Saudi Arabia and its allies have refused to implement the ceasefire agreement reached in Stockholm and are continuing to bombard Yemen, including the key port city of Hodeida.
Meanwhile, on Saturday Yemeni Air Force unit spokesman, Brigadier General Abdullah Al-Jefri underlined that the balance of war had changed in Yemen's favor thanks to the formidable array of missiles and drones possessed by the Yemeni army.
Brigadier General Al-Jefri reiterated that the Saudi-UAE coalition would be forced to stop the war soon.
The general added that after the recent attacks against Najran, Jizzan and Abha, Yemen Army and popular allied forces will launch offensives against the airbases, specially Khamis Mashit region in Asir which is considered as one of the most important Saudi military bases which hosts Israeli military experts too.
Yemeni forces have launched a fresh drone attack on an airport in Abha, the capital city of the province of Asir in southern Saudi Arabia, in retaliation for Riyadh's bombardment of the innocent people of Yemen during the past four years.
The Ansarullah movement and its allied forces targeted the Abha airport with a Qasef K2 drone on Sunday, the group's Al-Masirah TV said on Monday.
The attacks come as Saudi Arabia continues to target crowded civilian locations across Yemen, ignoring international criticisms of its brutal air campaign.
The Saudi-led war that started in 2015 has claimed over 15,000 lives, most of them Yemeni civilians.
Source: News Agencies, Edited by Website Team