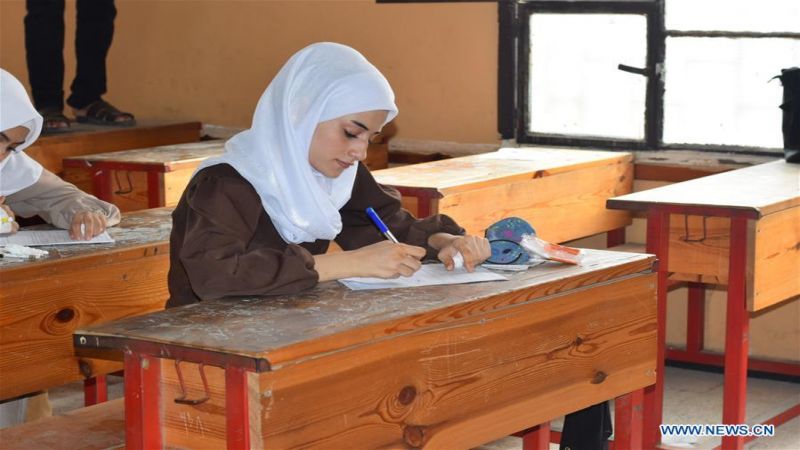 Yemeni High School Students Start Final Exams Amid Tightened Anti-Cheating Measures
Local Editor
Yemen's high school students began their final exams on Sunday amid tightened measures taken by the educational authorities to curb rampant cheating among students in the war-torn country.
Officials told Xinhua that about 90,000 students started their first exam at some 750 examination centers across 13 provinces controlled by the Saudi-backed resigned regime of former Yemeni president Abd Rabbu Mansour Hadi.
In the southern port city of Aden, supervision committees had been deployed with maximum level of preparedness to prevent students from cheating during the exams.
Leaflets distributed through social media networks warned students not to take mobile phones while taking exams and vowed to penalize those who would use technological devices to facilitate cheating.
Nahid Omar, director of e-learning in Yemen, told Xinhua that thousands of high school students began taking their exams in Aden without any disturbances.
"The exams went smoothly during the first day and the education ministry took a number of strict procedures to avoid any leaks of exam questions or cheating in any examination center," said Omar.
"The educational authorities increased the number of supervisors and control committees across the provinces comparing to the previous years," she added.
According to Minister of Education in the resigned Hadi regime Abdullah Lamlas, about 76 officials were deployed for "the supervision process" in the resigned regime-controlled provinces.
"We also opened four control centers in Aden and elsewhere," Lamlas said.
Meanwhile, Deputy Prime Minister of the Hadi regime Ahmed Saeed al-Khanbashi visited a number of high schools in Aden and encouraged students to proceed their exams despite the scorching heat in summer.
"We ordered the electricity corporation to cooperate with the education ministry and avoid power outages during the exam periods to help the students overcome heat inside the classrooms," said al-Khanbashi.
However, some Yemeni students were still seen sweating excessively in their classrooms, while others complained that repeated power outages had distracted their attention from revision before taking exams.
"It's true that electricity outages leave a negative impact on students' performance but we tried to use alternatives because this is our future," Ayad Fadaq, a high school student in Aden, told Xinhua.
The ongoing war between the Saudi-led coalition backed reigned regime and Yemen's Houthi revolutionaries has left a devastating impact on the education sector, negatively affecting the future of the younger generation.
According to the UNICEF, nearly half a million children have dropped out of school since the Yemeni conflict escalated in 2015, bringing the total number of out-of-school children to 2 million.
More than 2,500 schools are out of use, with two-thirds damaged by attacks, 27 percent closed and 7 percent used for military purposes or as shelters for displaced people, UNICEF said.
The UN organization pointed out in previous reports that at least 2,419 children have been recruited in the fighting in Yemen since March 2015.
Saudi Arabia has been leading an Arab military coalition that has been launching a military aggression against Yemen since 2015 to forcefully reinstate the Hadi resigned regime.
The prolonged military conflict has aggravated the suffering of Yemenis and deepened the world's worst humanitarian crisis.
Source: Xinhua, Edited by Website Team