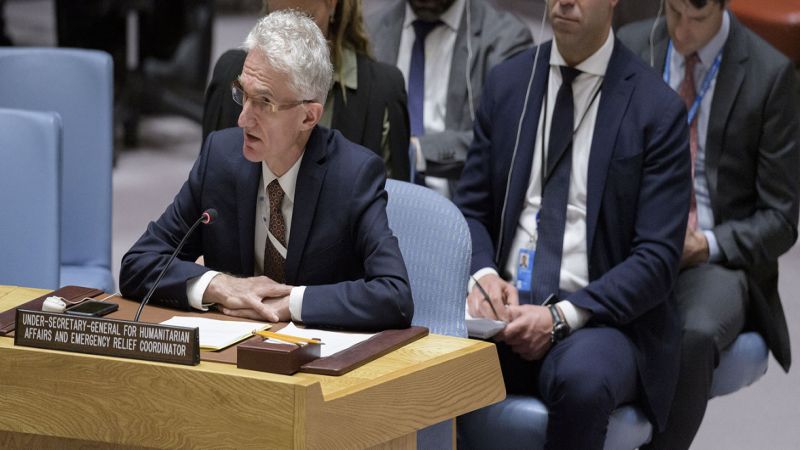 'Specter of Famine Still Looms' - UN Relief Chief
Local Editor
The UN Emergency Relief Coordinator, Mark Lowcock, told members of the Security Council on Wednesday that ten million people were still in need of emergency food assistance, while the "specter of famine still looms". Cholera has affected 300,000 this year alone, compared with 370,000 during the whole of 2018.
The fighting continues to affect the aid operation, with humanitarians now relying "on a patchwork of back roads and mounting passes, often going through insecure areas with numerous checkpoints." More than 900,000 civilians were impacted by aid access restrictions, said the OCHA chief, in February and March alone.
Despite the myriad problems of access, continued fighting and the risks of environmental disaster if the Safer oil tanker wreck off the Red Sea coast were to rupture or explode, the UN aid operation is still continuing to deliver, he told the Council.
In March, the World Food Program (WFP) fed 10.6 million, "more than in any previous month. In April, a cholera vaccination campaign reached 1.1 million in Sana'a". Lowcock said beyond the first goal to "keep people alive" OCHA was now beginning "to see more positive sustained outcomes". A year ago, 107 districts were at risk of famine, but today, "the food and nutrition situation has improved in more than half of those districts" with 20 per cent of them, no longer at risk at all.
He also said more funding was urgently needed from around the Council's iconic horseshoe table, and beyond. "We again call on all our donors to fully disburse the pledges made in Geneva in February. I am looking forward to travelling to Riyadh next week to meet Saudi and Emirati officials and finalize arrangements for the joint pledge of $1 billion they made in Geneva".
Source: News Agencies, Edited by Website Team