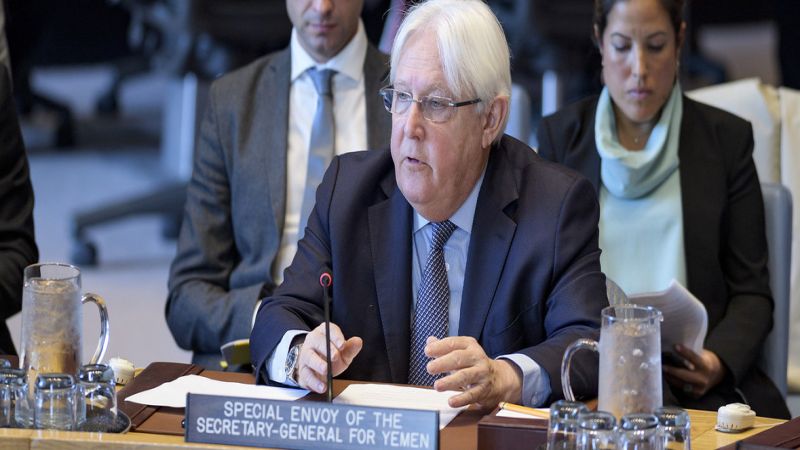 UN Envoy Urges Further Withdrawal From Yemen's Ports
Local Editor
The UN's special envoy for Yemen, Martin Griffiths, on Wednesday urged parties in Yemen to engage in further withdrawal from the Hodeida port, saying that change "is now a reality."
Yemen's Houthi revolutionaries withdrew from three Red Sea ports, including the port of Hodeida.
Hodeida serves as the main point of entry for the majority of humanitarian supply that enters the country.
The withdrawal process was a part of the first phase of a UN Stockholm agreement -- a cease-fire deal reached last December in Sweden. It began May 11 under UN supervision.
"These redeployments must be followed, and I'm sure will be followed by concrete actions of the parties to deliver on their obligations under the Stockholm agreement," Griffiths told the UN Security Council.
The UN envoy urged warring parties to continue the momentum of the initial withdrawal and work on larger pullouts, and report on all further redeployments from the area.
Griffiths said there are "signs of hope" but he noted "alarming signs in recent days" of the war. "Yemen remains at the crossroads between war and peace."
Yemen has been beset by violence and chaos since 2014. The crisis escalated in 2015 when a Saudi-led military coalition launched a devastating air campaign aimed at rolling back Houthi territorial gains and forcefully reinstating the resigned regime of former president Abd Rabbu Mansour Hadi.
Tens of thousands of Yemenis, including civilians, are believed to have been killed in the conflict while another 14 million are at risk of starvation, according to the UN.
The country is facing one of the world's worst humanitarian crises, with more than 10 million people driven to the brink of famine. Upwards of 22 million people in Yemen are desperate for humanitarian aid and protection, according to UN figures.
Source: News Agencies, Edited by Website Team