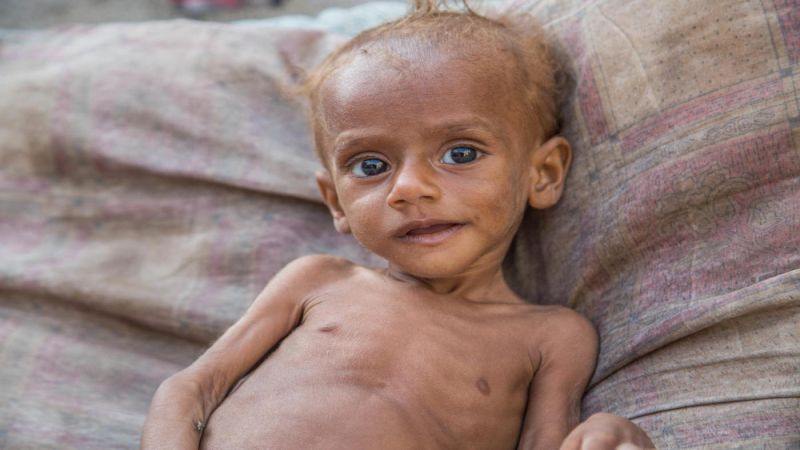 Yemen Could Plunge Into 'Further Famine' If Hodeida Is Cut Off
Local Editor
Yemen is at risk of plunging further into famine if fighting continues near the port city of Hodeida, a major aid agency has warned as peace talks continue.
Speaking at a press conference in London, Save the Children's Yemen director Tamer Kirolos painted a bleak picture of the humanitarian situation inside Yemen.
"If Hodeida is cut off, then it will lead certain pockets of the country to famine," Kirolos told Middle East Eye.
"From a humanitarian perspective, this is by far the worst crisis Save the Children has seen since it began operating in Yemen.
"The number of children facing malnutrition is rising. More and more families still not sure of when their next meal is. We expect that 24 million people will be impacted by famine and that there will be millions more who will be reliant on food aid."
Compromise on Hodeida
Kirolos's warnings come as warring parties in Yemen's … war agreed on Friday to a preliminary compromise for withdrawing forces from the port city of Hodeida.
The preliminary compromise was agreed following three rounds of talks aboard a UN ship in Hodeida's harbour.
Kirolos welcomed Friday's development on Hodeida but said his organization must be allowed access to help stop the country falling into further famine.
"Some of the main stumbling blocks we have seen in aid delivery is having to deliver medical supplies from Aden, instead of Hodeida, which is a problem, because it does not have the storage or capacity to allow for supplies to be brought in," said Kirolos.
"Huge resources are put into Yemen but working in Yemen is very difficult, and the scale of suffering is immense.
"Every step of the process for delivering aid in Yemen is transactional: we are reaching a large number of people, but we do need to have better access to reach more people."
Kirolos echoed UN calls to gain access to a food storage site in Hodeida that could feed millions of Yemenis hit a wall.
The Red Sea port is the entry point for the bulk of Yemen's imported goods and humanitarian aid, providing a lifeline to millions in the Arab world's poorest country.
The United Nations has described Yemen as the world's worst humanitarian emergency, with 10 million people on the brink of famine.
Prisoner talks could 'drag on for months'
Meanwhile, talks on a UN-sponsored prisoner swap in Yemen's war could drag on for months if the Saudi-backed government denies the existence of thousands of Houthi fighters in captivity, the Houthis said on Thursday.
In two rounds of talks in the Jordanian capital Amman, the warring parties have been hammering out details of the prisoner exchange they agreed on last December as a confidence-building gesture at the first major peace talks of the nearly four-year-old war.
Delegates to the talks have been struggling to come with a final list of detainees after verifying an initial one they exchanged in Sweden that had around 15,000 people, the Reuters news agency reported.
Abdul Qader Murtada, who heads the Houthi delegation, said the regime side had accounted for only a tenth of a total of 7,500 of Houthi prisoners held in the United Arab Emirates and Saudi Arabia.
"If the other side remains in its intransigent position of denying the presence of our prisoners, the talks will drag on for months," he told Reuters on the sidelines of the current round of talks, which began on Tuesday.
The Houthis have in turn recognized only 3,600 from an original list of 9,500 names submitted by the regime side of their detainees, saying over 4,000 names were either fake, duplicate names or of prisoners who had been released, he added.
Source: MEE, Edited by Website Team