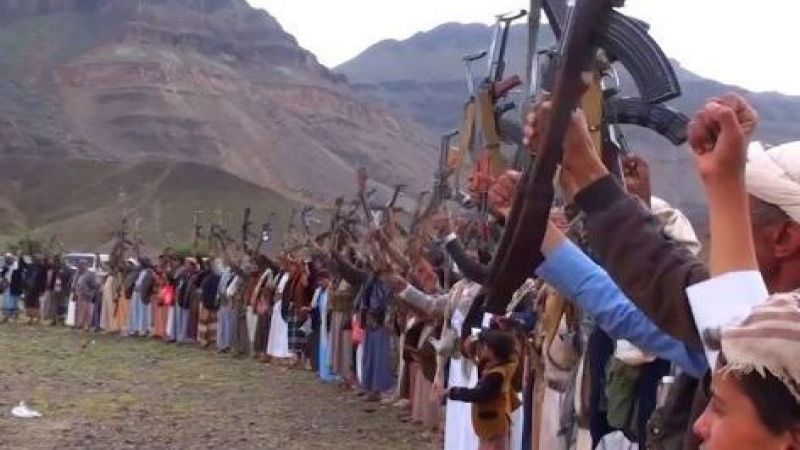 Dozens Of Fighters From Mahweet Arrive In Hodeidah
Local Editor
Dozens of tribal fighters from al-Khabt district of Mahweet province arrived on Thursday in Hodeida province to support the Yemeni army fighting along the western coast front, an official told Yemen Press Agency.
This move comes in response to the call of Ansarullah's Leader, Sayyed Abdulmalik al-Houthi, during a speech he delivered on Wednesday evening.
Al-Khabt tribes organized on Wednesday an armed vigil during which the deputy governor Mohammed Jobran called on tribesmen to support the army in defending the homeland and its sovereignty.
Saudi Arabia has been incessantly pounding Yemen since March 2015 in an attempt to crush the popular Houthi movement and reinstate former president Abd Rabbuh Mansur Hadi, a staunch ally of the Riyadh regime.
One of the principle targets of the Saudi strikes is Hudaydah port, where the World Food Programme is finding it hard or impossible to access desperately-needed wheat stocks. Yemen is heavily dependent on food imports and the deadly ground and aerial attacks by the Riyadh regime and its allies are directly adding to the risk of starvation on a massive scale.
According to a new report by the Armed Conflict Location and Event Data Project (ACLED), a nonprofit conflict-research organization, the Saudi-led war has so far claimed the lives of around 56,000 Yemenis.
Source: News Agencies, Edited by Website Team