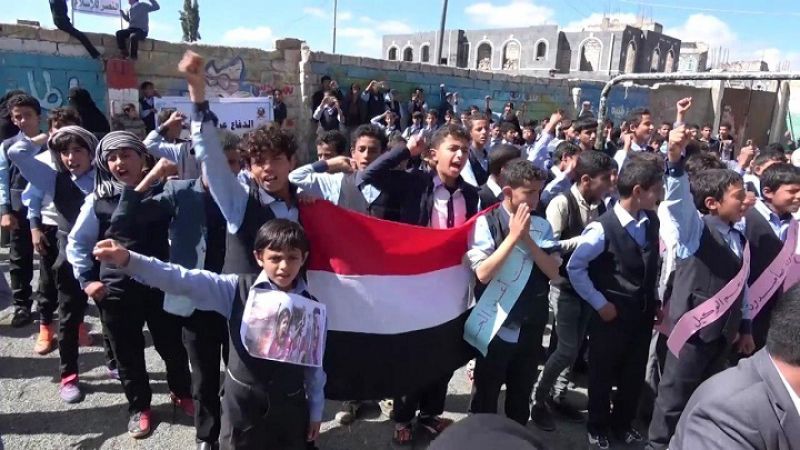 Dhamar Schools Condemn Saudi-led Coalition's Crimes and Siege
Local Editor
Several schools in Dhamar province held rallies on Tuesday denouncing the massacres committed by the Saudi-led coalition and siege imposed on Yemen.
The students of Asmaa and Wifaq Schools held two separate vigils, in which students and teachers emphasized the continuation of the educational process, regardless of the crimes, massacres, conspiracies and economic war to disrupt the education.
The protestors held the United Nations full responsible for the salary cuts and stressed that the education sector would be as steadfast as the army is on various fronts.
Saudi Arabia and a number of its regional allies launched a devastating military campaign against Yemen in March 2015, with the aim of bringing the government of Hadi back to power and crushing the country's popular Houthi Ansarullah movement.
The Legal Center for Rights and Developments in Yemen, in a statement released on October 15, announced that the ongoing Saudi-led military campaign against the impoverished and conflict-plagued Arab country has resulted in the death of 15,185 civilians, including 3,527 children and 2,277 women.
A total of 23,822 civilians, among them 3,526 children and 2,587 women, have also sustained injuries, and are currently suffering from the lack of medicine, medical supplies and poor treatment due to the crippling Saudi siege.
The center further noted that the Saudi military aggression has also caused the death of nearly 2,200 Yemenis from cholera.
It highlighted that aerial assaults being conducted by the Saudi-led alliance have resulted in the destruction of 15 airports and 14 ports, and damaged 2,559 roads and bridges in addition to 781 water storage facilities, 191 power stations and 426 telecommunications towers.
Source: News Agencies, Edited by Website Team