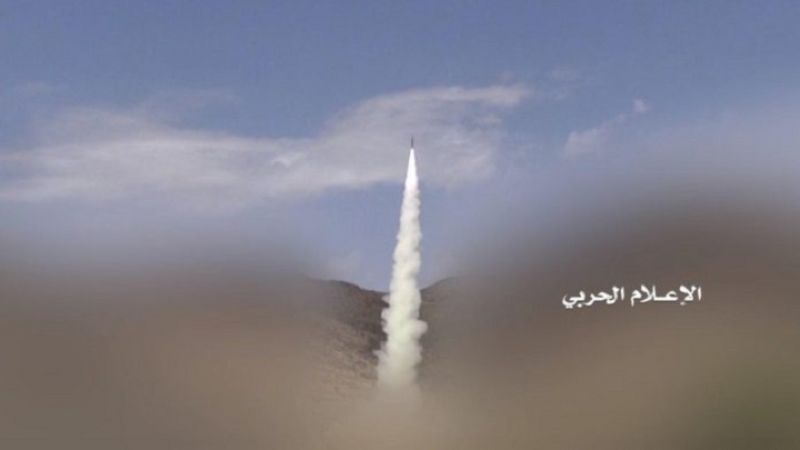 Ballistic Missile Targets US-Saudi Mercenaries' Positions in Asir
Local Editor
The rocketry force of the Yemeni Army and Popular Committees fired a ballistic missile, Badr-1, at the positions of the US/Saudi-backed mercenaries in Asir Wednesday evening.
According to Al-Masirah Net, a source in the force disclosed that the ballistic missile hit its target accurately and caused human and property casualties.
Saudi Arabia and some of its allies, including the United Arab Emirates, Morocco, and Sudan, launched the brutal war against Yemen in an attempt to reinstall Yemen's former president Abd Rabbu Mansour Hadi and crush the country's popular Houthi Ansarullah movement, which has played a significant role, alongside the Yemeni army, in defending the nation.
Some 15,000 Yemenis have so far been killed and thousands more injured. More than 2,200 others have also died of cholera, and the crisis has triggered what the United Nations has described as the world's worst humanitarian disaster.
The imposed war has also taken a heavy toll on the country's infrastructure, destroying hospitals, schools, and factories. The UN has said that a record 22.2 million Yemenis are in dire need of food, including 8.4 million threatened by severe hunger.
Some Western countries, the United States and Britain in particular, are also accused of being complicit in the ongoing aggression as they supply the Riyadh regime with advanced weapons and military equipment as well as logistical and intelligence assistance.
Source: News Agencies, Edited by Website Team