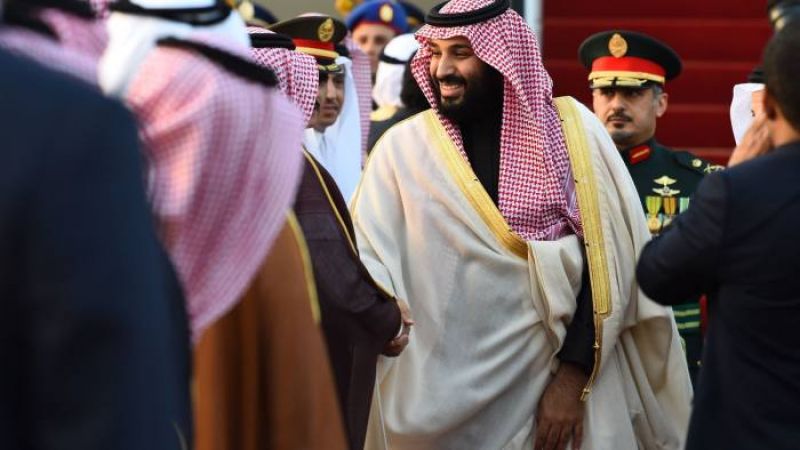 Saudi Crown Prince Visits UK with $100bn Deals Said to Be on Table
By Anjli Raval and Simeon Kerr
Saudi Arabia and the UK will sign a series of agreements when the kingdom's crown prince Mohammed bin Salman visits London this week, in deals that diplomats said could be worth more than $100bn. Foreign minister Adel al-Jubeir told reporters on Monday that the trip was aimed at taking the Saudi-UK relationship to a "higher level", with both countries seeking co-operation in sectors such as education and technology as well as security. "Our relationship is so strong that the talks will be broad and wide ranging," said Mr Jubeir. "There will be agreements and memorandums of understanding signed in a number of areas."
Mr Jubeir did not provide details of these agreements. But in recent months diplomats have spoken about plans for more Saudi investment in the UK, as well as the kingdom acquiring British companies that could help execute a radical overhaul of the Gulf country's economy.
Prince Mohammed, the son of King Salman bin Abdulaziz al-Saud, is the main driver behind the Vision 2030 reform program that aims to reduce Saudi dependence on oil. On Monday, he began an overseas tour in Egypt that will also take in the UK and the US this month. He arrives in the UK on Wednesday and is due to meet Prime Minister Theresa May and other senior ministers, members of the royal family, as well as security officials and business people. Recommended The Saudi sovereign wealth fund is splashing cash around Saudi Arabia to tap bond market for third year in a row Russian sovereign fund eyes investor consortium for Saudi Aramco IPO.
The planned initial public offering of state energy giant Saudi Aramco is expected to come up in discussions, said several officials, with the London Stock Exchange competing with New York and Hong Kong for a potential overseas listing by the company. Yet it is also possible that the IPO will end up as only a domestic listing or a private sale. Mr Jubeir, who described UK-Saudi relations as "honest and frank", did not go into details about Saudi Aramco's plans. Campaign groups in the UK are planning protests in London during prince Mohammed's visit, claiming that British arms sales to Saudi are fuelling a humanitarian catastrophe in Yemen, where Riyadh has waged a three-year war against revolutionaries … allied to its arch-rival Iran.
Neil Partrick, lead contributor to Saudi Arabian Foreign Policy, said in a recent book: "The UK cannot claim . . . to encourage Saudi caution in Yemen when Britain is so intimately involved in the Saudi effort in Yemen as military adviser and supplier." But Mr Jubeir said Saudi was misunderstood. "We have not done a good job in explaining ourselves," he added. "We are trying to stabilize our region . . . people should be protesting in support, not in opposition." He also said the UK's planned exit from the EU in 2019 would not impact Riyadh's view of Britain as an investment destination. He described Britain as one of the world's "great powers".
Prince Mohammed's first overseas tour since becoming Saudi Arabia's heir-apparent is also aimed at promoting the kingdom as a secure business destination following political upheaval that led to scores of prominent figures being arrested. "The trip is primarily to cement confidence in the crown prince's economic reforms, and to build a sense that Saudi Arabia is a good place to invest," said Michael Stephens, research fellow at the Royal United Services Institute. More than 200 princes, businessmen and senior officials were detained in a sweeping anti-corruption crackdown that unnerved international investors operating in Saudi.
A source of contention in the American leg of the crown prince's tour will be the boycott by Saudi Arabia and three Arab allies of fellow US ally Qatar, on charges of sponsoring terrorism. Doha denies the charges. After Mr Trump initial backed the quartet's moves on Qatar, the administration is now seeking to heal the rift as it prioritizes containing Iran. "The president is determined to bring these allies together," said one official.
The US tour will include a planned meeting with President Donald Trump and visits to Wall Street and California. President Trump's visit to Riyadh last year delivered hundreds of billions of dollars in deals, mainly Saudi investments into the US. Prince Mohammed is also set to hold further talks with Apple and Amazon over deals for them to respectively open outlets and data centers in the kingdom. "[The crown prince] is proactively trying to reorient the economy around new knowledge industries, and this aims to attract American know-how to turbo-charge his agenda," said Sam Blatteis, chief executive of The Mena Catalysts, an advisory firm.
Source: Financial Times, Edited by Website Team