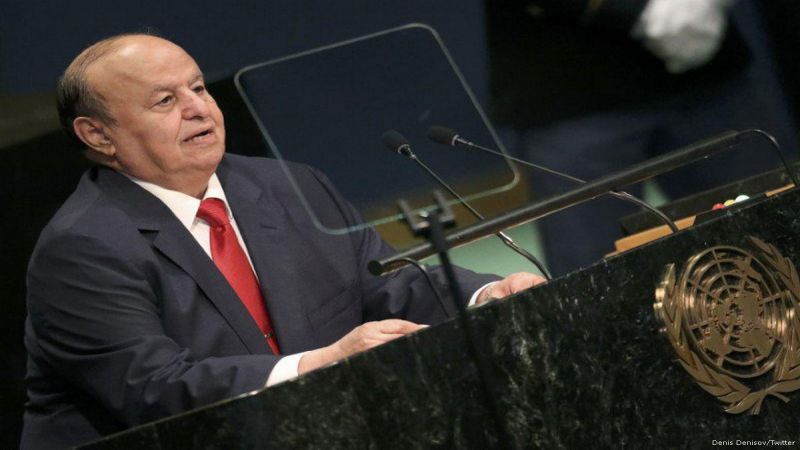 UN: Saudi-Led Coalition Is Undermining Hadi Regime
Local Editor
A 79-page undisclosed UN report accuses Saudi Arabia and the United Arab Emirates (UAE) of undermining the resigned regime of former president Abd Rabbu Mansour Hadi, the Washington Post reported Thursday.
The publication claims that both Saudi Arabia and the United Arab Emirates have supported armed forces to fragment the authority of the Hadi regime which has bolstered the fragmentation of the country.
Hadi called on the Saudi-led coalition to launch a military campaign against Yemen's Houthi Ansarullah group, which enjoys vast popular backing, and support his resigned government and bring it back to power. The United Arab Emirates has since supported the Southern Transitional Council (STC) based in Aden, south Yemen, which holds political goals to secede from northern Yemen. Late last year, the STC inaugurated its national assembly.
Saudi Arabia has not publically commented on the UAE's political and military shift.
In an interview with MEMO late last year, STC spokesperson Salem Thabet Al-Awlaki said the "STC is part of the solution not a part of the problem, and therefore there has been no negative attitude announced by the Saudi leadership, which was timely in its intervention."
Saudi Arabia was also criticized by UN experts in the report on its use of air strikes in Yemen. The UN claimed that majority of the air strikes targeted more than 5,000 civilians.
Shortly after former president Ali Abdullah Saleh was killed, a new alliance to fight the Houthis led by Hadi's militias was formed. The alliance included UAE backed militiamen and the Tihama tribe located on the west coast.
The United Arab Emirates has focused its political and military efforts in south Yemen. Saudi Arabia has stepped-up its military presence in Mahrah governorate which borders Oman.
Source: News Agencies, Edited by Website Team