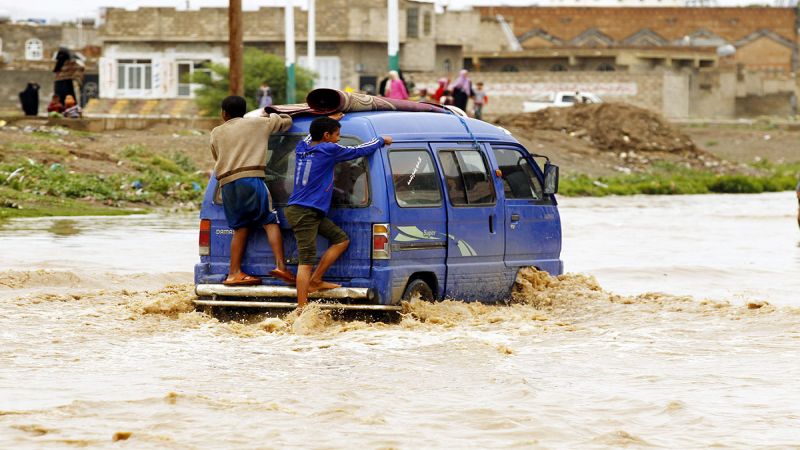 Flash Floods Triggered by Tropical Storm Continue to Hit Eastern Yemen
Local Editor
Flash floods and landslides triggered by the tropical storm Luban continued to hit Yemen's eastern province of Al-Mahra on Monday, official sources told Xinhua.
The entire province is still being threatened by Luban with many houses damaged by the flash flood and strong wind, said a source from the Al-Mahra authorities.
Thundery downpours and severe wind are still hitting many areas of the province, bringing flash floods that besieged a number of villages, the source said on condition of anonymity.
Temporary relief camps set up at schools received scores of flood-affected people, he added.
Another source from Al-Mahra's health department said four people are missing and 33 injured, while more than 350 families have been rescued from their homes and moved to schools and shelters.
Electricity power stations and other communication facilities across the province remain out of service.
Meanwhile, Rageh Bakrit, governor of Al-Mahra, said around 50 families are still trapped on the rooftops by flood waters.
"The situation is too dangerous and we need quick reaction from the air forces to save those families besieged by flood flashes," he said in an online statement.
Describing his province as a disaster area, the Yemeni governor declared a state of emergency, and appealed to the Arab and International relief organizations and donors to take action immediately.
The tropical storm Luban started to crash into the eastern coasts of Yemen and neighboring Oman on Sunday, with winds of up to 110 km per hour.
The eastern Yemeni provinces, including Al-Mahra, are controlled by the resigned Yemeni regime of former President Abd-Rabbu Mansour Hadi.
The impoverished Arab country has been locked into a civil war since the Houthi revolutionaries since 2014.
The war between the Houthis and the Saudi-backed Hadi regime recently entered its fourth year, aggravating the suffering of Yemenis and deepening the world's worst humanitarian crisis.
Source: News Agencies, Edited by Website Team