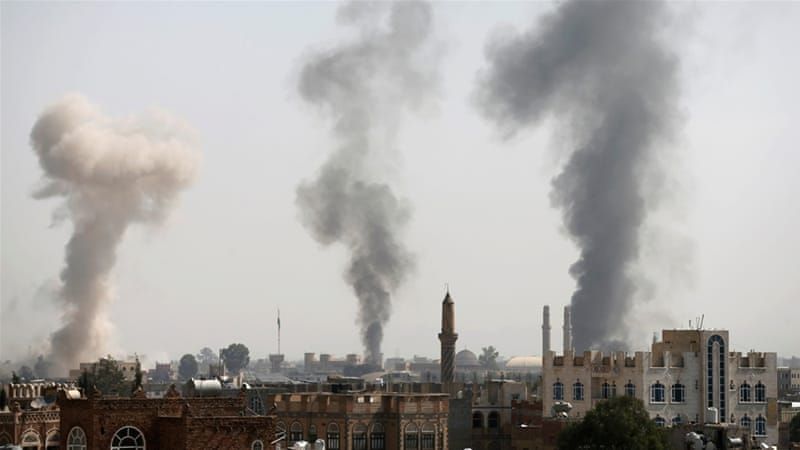 Saudi Accused Of Rights Abuses In Yemen Civilian Deaths
Local Editor
A UN report on human rights abuses related to foreign intervention in Yemen details the extensive civilian casualties inflicted by the Saudi-led coalition's air attacks.
The United Nations panel examined 10 air attacks in 2017 that killed 157 people, and found that the targets included a migrant boat, a night market, five residential buildings, a motel, a vehicle and government forces, according to a copy of the report shown to Al Jazeera.
The panel said it requested information from the Saudi-led coalition for the rationale behind such attacks, but did not receive a response. The attacks were carried out by precision-guided munitions, so it is likely these were the intended targets, the report points out.
"Even if in some cases, the Saudi-led coalition had targeted legitimate military objectives, the panel finds it highly unlikely that the IHL [International Humanitarian Law] principles of proportionality, and precautions in attack were met," the report stated.
The report also cited a "widespread and systematic" pattern of "arbitrary arrests, deprivation of liberty and enforced disappearances". It was particularly scathing about UAE camps, where it says torture has been taking place.
The panel, which investigated the cases of 12 inmates, referenced beatings, electrocution, constrained suspension, use of "the cage" - confinement in a cage in the sunlight - and denial of medical treatment.
'Threat to peace'
Proxy forces funded and armed by the coalition "pose a threat to peace, security and stability of Yemen", the panel said, and "will do more to further the fragility of Yemen than they will do to hold the state together".
Since the beginning of Yemen's war, more than 10,000 people have been killed, according to the UN.
In March 2015, a Saudi-led coalition launched a large aerial campaign against the Houthis, aimed at restoring the resigned regime of former President Abd-Rabbu Mansour Hadi.
A majority of the more than 5,000 civilian deaths were caused by the Saudi-led coalition, of which the United Arab Emirates (UAE) is a member, the UN has previously said.
The UN's top human rights official, Zeid Raad al-Hussein, had called for an independent inquiry into atrocities in Yemen for three years before the international community agreed in 2017.
In September, the Netherlands and Canada debuted a draft resolution that would establish an international commission of inquiry to make sure "perpetrators of violations and abuses, including those that may constitute war crimes and crimes against humanity, are held accountable".
The resolution was approved after China signaled its support later that month.
Source: Al-Jazeera, Edited by Website Team