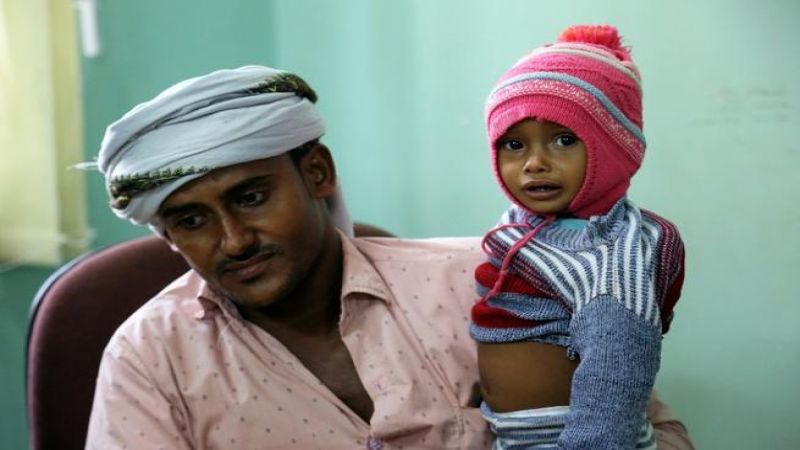 Why is the World Suddenly Paying Attention to Yemen?
Local Editor
Millions of Yemenis could die of starvation in the largest famine in decades if Saudi Arabia and its allies do not lift their blockade, the U.N. warned on Nov. 8.
The stark warning, a response to the tightened restrictions on Yemen following the targeting of Riyadh by a Houthi missile on Nov. 4. has seen a sudden outburst of concern in the international media, and on social networks.
The situation may be critical, but it is nothing new for Yemen, where conflict began in March 2015.
As early as April that year, a cholera epidemic began which has so far reached over 700,000 cases, according to the World Health Organization. In January this year, the U.N. estimated that at least 10,000 people had died in the conflict.
At that point, The Guardian reported that "the destruction of Yemen has garnered little international attention compared with other regional conflicts such as that in Syria, or the battle against Isis in Iraq."
So, why has Yemeni suffering apparently received international attention overnight?
Simply, it is politically relevant: the events of the last fortnight have seen Saudi-Iranian tensions pushed to the brink.
Riyadh accused Tehran of providing the Houthi missile fired at Riyadh, calling it an act of war.
Shortly before that, Lebanon's Prime Minister Saad Hariri resigned from the Saudi capital, in what many have suggested was a Saudi-orchestrated move. In his statement, Hariri slammed interference by Iran and Hezbollah in Lebanese affairs.
Suggestions have even circulated that Saudi Arabia might back a future Israeli war against Hezbollah.
The fact that Riyadh appears now to have decided to shift the site of its anti-Iran posturing to Lebanon is not coincidental. They have been humiliated by failure to reach military victory against Tehran-backed Houthis in Yemen.
In fact, the starvation of Yemeni citizens, some suggest, is a deliberate tactic by the Saudis to force collapse in Yemen.
Meanwhile, Saudi Defense Minister and Crown Prince Mohammed bin Salman has been busy promoting his program Saudi economic and social reform to the West.
These attempts to deflect attention from Saudi disgrace in Yemen appear, however, to have had the opposite effect, with increasing media focus on the situation there.
An easy question to answer is why Yemeni suffering has largely been ignored, at least politically, until now.
The Saudi-led coalition is backed and equipped by the U.S. and the U.K.
Since 2015, Britain has agreed arms deals worth $4.9 billion to Saudi Arabia. In May this year the U.S. agreed weapons sales to Saudi Arabia worth $350 billion over 10 years.
Despite rights groups identifying British and U.S.-made bombs as having been used against civilian targets in Yemen, their respective governments seem blinded by the profits.
Only last month, then British Defense Secretary Michael Fallon urged fellow MPs to stop their "unhelpful" criticism of Saudi Arabia in the interests of securing a fighter jet deal.
However, criticism of Saudi Arabia is exactly what the Yemenis need.
Following international condemnation of the intensified blockade, Saudi Arabia said on Monday that it would begin reopening Yemen's sea and air ports.
Yet, more remains to be done. Despite the U.N. humanitarian chief's harsh warning, the Security Council did not announce action on the blockade.
Kristine Beckerle of Human Rights Watch has said "It's not enough for the U.S. or the U.K. to say we are worried about famine in Yemen.
"At this point, it's up to the Security Council members, and particularly those allied with Saudi Arabia, to be using all the leverage at their disposal to be pushing these people to actually make changes to the ways in which they are fighting this war and certainly for them to stop impeding access to aid."
Perhaps if the barrage of media and popular concern in the West continues, the U.N., U.S. and U.K. might finally be shamed into action.
Source: Al-Bawaba, Edited by Website Team