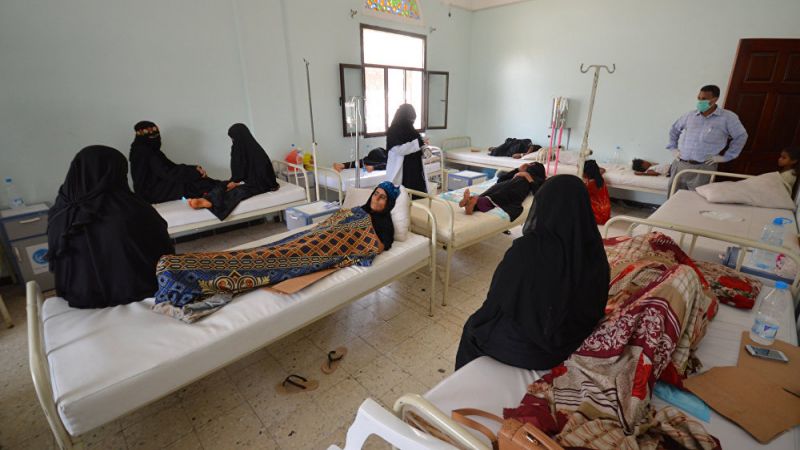 A New Saudi Blockade Could Worsen Yemen's Cholera Crisis
By Kareem Fahim and Louisa Loveluck
The International Committee of the Red Cross said Tuesday it was unable to get clearance to ship chlorine tablets used to prevent cholera from Saudi Arabia into Yemen, where a massive outbreak of the disease has affected more than 900,000 people.
Saudi Arabia announced Monday it was temporarily closing all of Yemen's ground, sea and airports in retaliation for a missile strike on the Saudi capital carried out last week by a rebel group in Yemen. The Saudi government had vowed it would "take into consideration" the delivery of humanitarian aid supplies.
The United Nations on Tuesday urged the Saudi authorities to reopen the air and sea ports, fearing the blockade would sharply exacerbate an already dire humanitarian crisis in a country that has suffered through more than two years of a civil war, according to Reuters news agency.
In addition to the cholera epidemic, roughly 7 million Yemenis are on the brink of famine, aid workers said.
The blockade was part of the continuing fallout from an escalating confrontation between regional rivals Saudi Arabia and Iran that has reverberated across the Middle East in recent days, but landed especially hard on Yemen, the Arab world's poorest country.
After the missile strike on Saturday, Saudi officials said Iran had manufactured the projectile and smuggled it to the Yemeni rebel group, known as the Houthis. Iran denied any role in the attack.
Independent analysts say while Iran and its allies have provided financial support, advice and light arms to the Houthis during the war, intercepted shipments have not included heavy weapons like ballistic missiles.
In addition to the blockade, a Saudi-led military coalition has stepped up its bombing campaign in Yemen since the missile strike, according to local reports.
A spokeswoman for the Red Cross, Iolanda Jaquemet, said the shipment of chlorine tablets, while not huge, "was critical," given the scale of the cholera outbreak. She also expressed concern about a shipment of 50,000 vials of insulin for treating diabetes that were being shipped to the southern Yemeni port of Aden and due to arrive next week.
"There are currently no movements in and out of Yemen. Given how fragile the country is, and the way the conflict is being waged, any additional restrictions on imports can have catastrophic effect," she said.
A report released Tuesday by the New York-based Human Rights Watch …. criticized the Saudi-led coalition, which it said had "delayed and diverted fuel takers, closed a critical port and stopped lifesaving goods from reaching the population" during the war.
"While warring parties may impose blockades during an armed conflict, a blockade is unlawful if it has the sole purpose of starving the civilian population or denying the population goods indispensable for its survival."
…
An aid official who works on Yemen said despite the constant problem of humanitarian access during the conflict, the blockade announced by the Saudi coalition this week was worse than previous closures.
"It's a full sealing," said the official, who spoke on the condition of anonymity to avoid offending the coalition. "If it doesn't get resolved in the coming days then we're already looking at a disaster."
Source: The Washington Post, Edited by Website Team